Use of Chemical and Carcinogenic Agents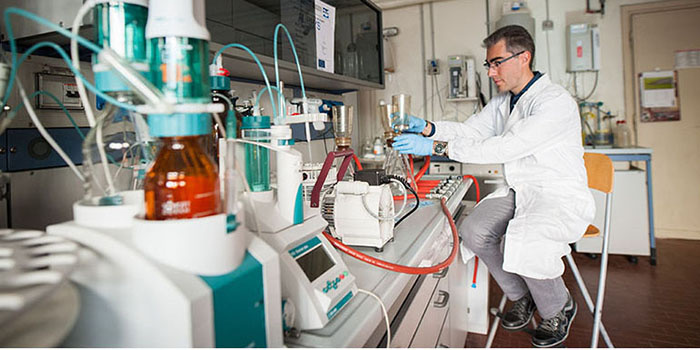 A chemical agent is any chemical element or compound, on its own or admixed, as it occurs in the natural state or as produced, used or released, including released as waste, by any work activity, whether or not produced intentionally and whether or not placed on the market.
In particular, a hazardous chemical agent is a chemical agent which may, because of its physical-chemical or toxicological properties and the way it is used or is present in the workplace, present a risk to the safety and health of workers.
A carcinogenic/mutagenic agent is any element or chemical compound that, even in a minute amount, is capable of causing cancer or hereditary mutations in human cells.
WHAT TO DO WHEN YOU INTEND TO USE A NEW AGENT IN A LABORATORY
Caution: before purchasing a carcinogenic/mutagenic agent, you must obtain permission to use it. To do this, use the authorisation application form , which must be signed by the Rector and submitted to the Health and Safety Services Unit (PREP). The reasons why the carcinogenic/mutagenic agent in question cannot be replaced with another product that is not carcinogenic/mutagenic must be stated in the application.
A copy of the Safety Data Sheet for each agent in the laboratory must be kept to hand. This document must be requested at the time of purchasing the agent.
Safety data sheets must meet the requirements of the European Regulation on classification, labelling and packaging (CLP) of hazardous substances and mixtures published in the Official Journal of the EU on 31 December 2008. Section 2 of such data sheet identifies the hazard and, in particular, includes H statements on the nature and severity of the hazard; H followed by a three-digit number, where the first number indicates the type of hazard: "2" indicates a physical hazard, "3" a hazard to human health, "4" a hazard to the environment.
NB: Safety Data Sheets are updated from time to time and so it is important to monitor such activity.
For liquids or solids (for gases: see the section on 'Compressed gases') with statements indicating a hazard to human health ('H3xx'):
Hazard statements H340 and H350 refer to mutagenic and carcinogenic agents, respectively. In that case:
These forms must be filled in and signed by the person handling the agent and by the Person in charge of teaching and research activities, both of whom must retain a copy.
The Chemical Risk Form and the Carcinogenic Risk Form must be submitted to the Health and Safety Services Unit (PREP), which will assess the risk, and to the Company Occupational Physician, who will define the appropriate Health Surveillance protocol.
LABORATORY ACTIVITIES
For information about:
Rules of conduct in laboratories;
Technical protective equipment (suction benches, fume hoods, glove boxes) that must be used, according to the toxicity and physical properties of the agent, and depending on the activity [recirculation hoods are not suitable when handling carcinogenic or flammable agents or radioisotopes];
Personal protective equipment that must be used according to the physical-chemical properties and toxicity of the agent to be handled;
Specifications of cabinets used to store chemical agents;
reference should be made to the 'Chemical laboratory safety guide ' (ITA).
NB: as far as suction systems are concerned, when recirculation or extraction hoods are fitted with filters, always make sure the type of filter is suitable for use with the agents being handled: active carbon filters are suitable for filtering gases and fumes, HEPA filters are suitable for filtering dust and particles. Likewise, make sure that the type of individual protective breathing apparatus is suitable for use with the agents being handled: filtering masks only protect against dust, not against fumes.
It is also important to ensure that fume hoods are serviced at regular intervals, especially to monitor air face velocity [in accordance with standard EN 14175] and replace filters. The maintenance technician must produce a written report of the periodical checks carried out. This report must be kept and, if requested, forwarded to the Health and Safety Services Unit (PREP).
MANAGEMENT OF HAZARDOUS WASTE
Waste resulting from research activities must be collected properly, sorted on the basis of the EWC (European Waste Catalogue) code and hazard class, in specific containers of the required strength and using containment tanks for liquid waste products. Receptacles must be labelled to indicate the waste product, EWC code and hazard class. Mixing different kinds of waste is strictly prohibited.
All waste management issues must be referred to the Department's waste management contact person.